Vinyasa Yoga with Annouck
Hi there!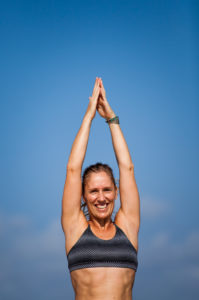 My name is Annouck. I was born in The Netherlands and while studying Anthropology in 1999, I decided to take a break and travel to the Dutch Caribbean Island of Bonaire to take some scuba diving courses. After six months it was time to head back home to Amsterdam, but since I had met my buddy for life and was enjoying my life as a scuba instructor to the fullest, I decided to stay. 
Working as scuba dive instructors, together with my husband, we travelled from the Caribbean to the Mediterranean, the Middle East and Thailand. It was in Thailand, back in 2001, on the beach of Koh Phi Phi, where I was taught Surinamaskara A (sun salutation) by one of my scuba dive students, a yoga teacher from Amsterdam.
My yoga, my history…
It took another three years, before I would really get into yoga. One day, when I was watching an older couple in their eighties walking down the street, I realized that, if I would be so lucky to reach that age and be healthy, I would still want to be able to dry my own toes after showering and get out of bed in the morning without my body aching.
I found the only yoga teacher on the island of Bonaire (Dutch Caribbean). Desirée was into Ashtanga Yoga and started teaching a small group of students. Back then, she was not yet a certified teacher, but was teaching us from her heart and own experience and with an enormous amount of love. I took classes on and off for about three years until I became pregnant with our son. After he was born in 2006, I slowly started some Ashtanga home practice, twice a week, with the help of some books and the internet. I used yoga to stay physically fit in addition to some swimming and cross training.
In waves, on and off, I would skip all other sports and become totally emerged in Ashtanga. Until I, after having dealt with cervical cancer, was getting pains in my hip area. I completely stopped doing yoga for almost one year. It was then, when I realized what yoga was doing for me mentally and I slowly started to pick up my Ashtanga routines. Because there were still no Ashtanga Yoga teachers on the island, I was still relying on the internet, books and some tips and tricks from an Ashtanga yoga friend.  I adjusted some of the poses, skipped some completely and really learned how to listen to my body and not be too hard on myself. This was the time in my life that I realized I wanted to bring this beautiful thing called Yoga into other people's lives.
Ashtanga and Vinyasa Yoga
After a while, I felt that the routine of Ashtanga yoga practice was keeping me from doing other, more playful, things on the mat. I started watching more
Vinyasa
videos and joined some Vinyasa classes. Now, I was getting on my mat every morning, not knowing what was coming and feeling totally free and liberated on my mat. I realized that Ashtanga is a great form of yoga, it has given me so much and I learned so much about myself from practicing. It has also taught me that my body and mind need something else besides the practice and routine of Ashtanga and that is more freedom.
Vinyasa Yoga
is what I am doing now, every day. It gives me the opportunity to listen and feel what my body and mind need when I step on the mat every morning. I inhale and exhale, without knowing what is coming next……..
Today, my journey continues…
My family and I have just started a new big chapter in our lives: in the summer of 2017, we moved from the Caribbean to Germany. I truly feel this is my chance to start teaching and bring yoga to the community. In September 2017 I completed the Vinyasa Power Yoga Master Lizenz with IFAA in Germany and will continue my education with them. Because of my travelling/teaching background, I can offer classes in English, Dutch and German. All my
yoga classes
, private and group teachings, are available for everybody: older people, kids, people with mental and/or physical disabilities and the fitness minded.
(Vinyasa) Yoga is for everybody!